AdBio partners (formerly Advent France Biotechnology) is a venture capital firm investing in early stage life sciences companies in Europe
AdBio partners' unique strategy combines early-stage investments in promising startups and strong entrepreneurial support to enable and strengthen the company's growth.
As an early-stage investor, we act as a catalyst to create companies based on innovations coming from academic research. We have established relationships with leading research institutions and technology transfer offices in Europe and benefit from the support of strong network of scientific, clinical, industry and financial partners.
The operational team is managed by Alain Huriez, MD, Chairman and Managing Partner, and Geoffroy de Ribains, Managing Partner. The team includes seasoned investment professionals with long-standing track records in entrepreneurial ventures, combined with strong scientific, medical and operational expertise.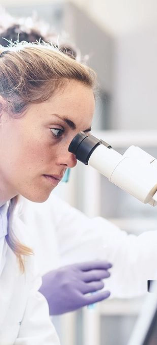 We are driven by core values anchored in human-led relations
These guide us every day to scout, build and develop the most inspiring life sciences startups from the very early-stages:

AdBio partners pro-actively sources disruptive healthcare innovations that have the potential to change standards of care for patients.
We identify promising technologies or products coming from academia and we help the scientists to transform their research into viable entrepreneurial ventures. We also select promising early-stage start-ups based on their innovation potential.

AdBio partners selects the most promising entrepreneurs and work closely with them to build innovative, competitive, market-oriented and cost-efficient startups. We also co-found companies together with scientific founders, provide initial funding and build successful management teams, including acting as interim CEO, if needed.

AdBio partners provides its hands-on expertise to its portfolio companies, as well as its financial resources and network to support the executive team in their startup development. Thanks to our market understanding, we can assist our startups in defining development plans and R&D strategy, building commercial visibility and ensuring the company's growth at every stage.
We are committed to our startups and their innovative projects, collaborating towards a common goal: helping each company develop, expand and thrive to become tomorrow's innovation in healthcare